1945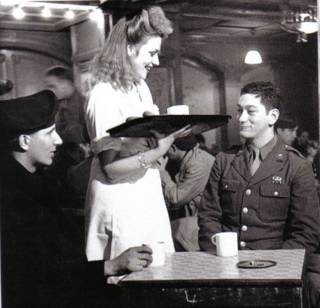 R&R

Bobby Hackett and His Orchestra, Pennies From Heaven.
The theme song of the Depression, and still a tonic for a war-numbed world ten years later. Written in 1936 by Johnny Burke and Arthur Johnston, and immortalized by Bing Crosby in a movie of the same name (which also guest-starred Louis Armstrong), "Pennies" soon became a jazz standard, its melody a fine thread that could be stitched into endless variations.
This version is fairly obscure-- it was compiled by Gary Giddins on a double-CD complementing his book Visions of Jazz--but its quiet, placid beauty is appealing. Hackett, best known for his work with Jackie Gleason (when Gleason moonlighted as a rival to schlock maven Mantovani) on a series of "Music for Lovers Only" LPs in the 1950s and 1960s. Hackett was as much a guitarist as he was a trumpeter (though he plays trumpet here.)
Giddins: "He played so well that he made elevator music interesting."
Recorded May 31, 1945-- the band includes Carl Kress on guitar, Dave Bowman on piano and Deane Kincaid on baritone sax.
More
on
Bobby Hackett
.
Visions of Jazz, a thumbnail history of jazz music on two discs, can be found
here
.
"Pennies from Heaven" is the centerpiece of Dennis Potter's brilliant 1978 BBC serial, starring Bob Hoskins, which was adapted in Herbert Ross' 1981 film, starring Steve Martin and Bernadette Peters, and featuring a Christopher Walken dance routine.