1950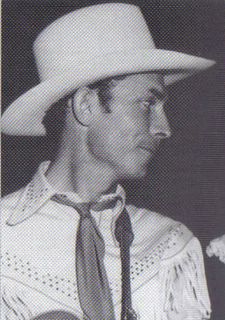 "has anybody here seen Hank"
Hank Williams, Long Gone Lonesome Blues.
Hank Williams (as Luke the Drifter), Too Many Parties and Too Many Pals.
Hank Williams (as Luke the Drifter), Everything's Okay.
Through no fault of his own,
Hank Williams
has come to be country music's trademark, the equivalent of Louis Armstrong in jazz or Bob Marley in reggae--the embodiment of his music's potential and the standard by which all who come after him are judged. Whether Williams is overrated at the expense of other great country performers is basically beside the point. History has chosen its man. When some 23rd Century scholar digs through the detritus of our chaotic period and tries to make sense of what "country music" was, she'll most likely conclude Williams was the performer who most mattered.
Hank Williams
took country music to its limits, cementing the changes that others like Bob Wills and Ernest Tubb had begun to make, turning a regional, folk-based music into a national, songwriter-based music. (Tony Bennett or Al Green covering Hank Williams seems natural, but it's hard to imagine them covering Roy Acuff or the Carter Family.) With the help of Fred Rose, his songwriting parter, producer and general manager, Williams crafted a set of country standards in which the beautiful simplicity of the lyrics, marked by Williams' ability to crystallize a vivid, haiku-like image (like the moon 'hiding its head' behind a cloud), were perfectly complemented by the clean, spare music.
And his volatile, often miserable marriage to
Audrey Sheppard
drove Williams to create a body of heartbreak songs that have few rivals--
Why Don't You Love Me Like You Used to Do
.
Your Cheatin' Heart
.
Why Should We Try Anymore
.
I'm So Lonesome I Could Cry
.
His singing is just as phenomenal--it's a distillation of a half-century's worth of country stylings. In Williams' voice you can hear echoes of Jimmie Rodgers' yodel; the great forgotten minstrel singer
Emmett Miller
(whose version of "Lovesick Blues" was the template for Williams' 1949 version); Rufus "Tee-tot" Payne, the black Alabaman who was Williams' first, and most crucial musical
influence
; even Williams' contemporaries Tubb and
Acuff
. So a Williams classic like "Long Gone Lonesome Blues" rings with history but also seems like something startlingly new. It's a fecund recording--you can sift through it and find rockabilly, modern blues, germs of nearly every emerging musical genre.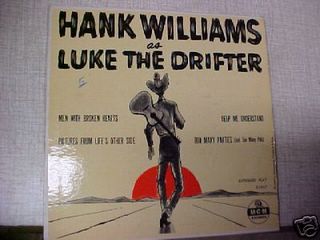 At the peak of his success, Williams also began experimenting. On January 10, 1950, Williams went into
Castle Studio
in Nashville and recorded four songs that were released as singles under a pseudonym, "Luke the Drifter." The songs were moralistic little fables, sung-spoken by Williams, often over organ accompaniment. The
Luke the Drifter
songs were meant to be the rebuke to Williams' rambunctious songs, the Sunday sermons to match his Saturday night juke-joint records. "Too Many Parties", with its bizarre narrative in which a judge stands before a jury defending a prostitute who turns out to be his daughter, veers from bathos to fervid testimony--it's an amazing piece, in any case. Another Drifter song from the same session is "Everything's Okay," a testament to country stoicism in which you can hear the smile in Williams' voice.
The Luke the Drifter songs would have moderate influence in country and folk in the years to come. The Drifter crops up during Bob Dylan and the Band's
Basement Tapes
' recordings in 1967 (they would cover a Drifter song, "Stones That You Throw", during the sessions), and is a major presence in Dylan's
John Wesley Harding
, released later the same year.
"Long Gone" was recorded on January 9, 1950 with Bob McNett (elec. gtr), Jack Shook (rhy. gtr), Don Helms (steel guitar), Ernie Newton (b) and Jerry Rivers (d). "Too Many Parties" and "Everything's Okay" has Helms, Hillous Butrum (b) and possibly Fred Rose himself on organ. You can find them both on
Hillbilly Hero
, an excellent 4-CD compilation chronicling Williams' 1947-1951 recordings.
Note from the Mgt:
Site updates are going to be pretty spotty for the next month or so, due to a host of reasons, including an upcoming relocation, switching to a new server, intrusions of work and life and some burnout on my part.
There probably will be no posts next week. After that, 1950 will get wrapped up pretty swiftly (it's not the strongest year for records--'51, by contrast, is going to be killer). And sometime in mid-April, Locust St. will
break the format
and have a thematic week of songs, some actually released in the past 10 years.