1950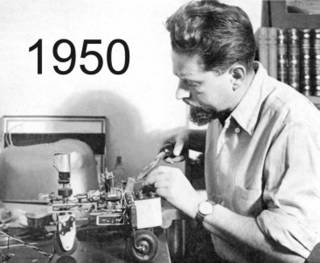 Dawn of a new era
Fats Domino, The Fat Man.
Fats Domino, She's My Baby.
Two weeks before the turn of the decade, Dave Bartholomew, New Orleans' top bandleader, went into the studio with his new find. Bartholomew had heard of a hot pianist playing at the Hideaway Club on Desire Street, and went down to hear him with Lew Chudd, who owned Imperial Records. The pianist, a big 21-year old kid, was playing his reworking of
Champion Jack Dupree
's "Junker Blues": "
They call me the fat man--'cause I weigh 200 pounds
!"

Antoine "Fats" Domino
was born in 1928 in New Orleans. After he left school, he worked at a factory, a job that nearly cost him his fingers, until finding work playing piano with Billy Diamond, who first gave Domino his nickname. When Fats hooked up with Bartholomew, though, it was a partnership that would last years and that would generate an incredible streak of pop hits throughout the '50s.
Domino was the first of the great rock and rollers to make his name, and he's the one with the greatest sense of tradition--his sound is not as radical as Chuck Berry or Little Richard's, his presence not as threatening as Elvis'. Take "She's My Baby", his third single, which is pure New Orleans stomp--steeped in a century's worth of regional styles.
"The Fat Man" is something else. You can hear a seismic shift when comparing Domino's song to Dupree's 1941 "Junker Blues." Dupree's song is harsh and unsparing. "
They call me a junker, 'cause I'm loaded all the time
," he sings, with the piano his unhappy, weary partner. His brother uses the needle, his sister takes cocaine, his mother has washed her hands of all of them. The scope of the song is narrow--it's all going to end in prison or in a grave, Dupree doesn't seem to care which.
But Domino turns "Junker Blues" into a happy celebration of himself, a bragging testament to the singer's vitality and prowess, and he takes the song out of the grim everyday world. He infuses it with the critical elements of rock and roll: swagger, resilience, a sense of joy, fearlessness and immortality--basically, manna for a teenager. And Domino kicks up the music as well--his piano is louder, faster, at times swamping the recording.
Dupree was standing on a street corner in New Orleans, wasted on reefer and getting busted by the cops, but Fats is on the corner whistling at girls.
Both "Fat Man" and "She's My Baby" feature Bartholomew on trumpet; Joe Harris (alto sax); Herb Hardesty and Clarence Hall on tenor sax; Alvin "Red" Tyler (baritone sax); Ernest McLean (g); Frank Fields (b); Earl Palmer (d). "The Fat Man" was the B-side of Domino's first single, Imperial 5058, released in January 1950; "She's My Baby" is on Imperial 5077, released in May of the same year.
Many of Domino's first tracks can be found on the great New Orleans R&B compilation "
Gettin' Funky
"; you can also find early Domino
here
.
Like the new look? Is it too harsh? Let me know. I figured a new decade merited new colors. And I was really sick of the original Blogger "Sand Dollar", whose wet mud and squash color combination reminds the eyes of elementary school Thanksgiving decorations. So here's a more austere blue and white set--I'll likely be tinkering with it for a while.