1950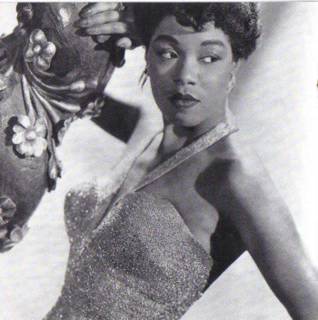 "
This part perform'd, the goddess flies sublime
"
Sarah Vaughan, It Might as Well Be Spring.
Sarah Vaughan, Mean to Me.

I try to be fairly objective when writing about the music I post, but I can't this time. It's
Sarah Vaughan
, the Divine One, my favorite jazz singer, the woman whose voice, every time I hear it, seems to belong to a higher order of perfection.
Sarah
Vaughan
began as the vocalist and secondary pianist in Earl Hines' big band, and then sang in Billy Eckstine's band. Eckstine's band, in whose bandstand (which included Charlie Parker and Dizzy Gillespie) bebop was germinated, was the greatest jazz group never recorded, due to the recording strike of 1942-1944. She had an amazing range, an incredibly clear and vibrant tone, and she interpreted jazz songs the way John Dryden translated Latin.
Vaughan
signed with Columbia in the late 1940s. It wasn't a great fit--for five years, Columbia attempted to fashion her into a pop singer, a slightly earthier rival to Patti Page or Doris Day. Sometimes her producers would introduce new songs on the recording date, in the hopes that Vaughan, having had no time to rework the music, would have to deliver the song in a basic, bog-standard manner. Vaughan would have to go elsewhere, to Mercury Records in 1954, to make pure jazz records.
But for two days in May 1950, Vaughan was able to sing, as she rarely did, with a small group of jazz musicians. The group included Miles Davis, who hardly ever in his career would back a vocalist; saxophonist/arranger Budd Johnson, who Vaughan knew from Hines' band; her long-time accompanist, pianist Jimmy Jones; and guitarist Freddie Green, an old Count Basie hand.
Vaughan's glorious take on Rodgers and Hammerstein's "It Might as Well Be Spring" was recorded on May 18, 1950 and features Benny Green on trombone, Johnson (tenor sax), Davis on trumpet, Tony Scott (clarinet), Jones (p), Billy "Pickles" Taylor, Jr. (b) and J.C. Heard (d). "Mean to Me", in which Vaughan radically alters the vocal line to make it swoop and soar (especially in the chorus following Budd Johnson's tenor solo), was recorded on the following day, with Davis on obbligato accompaniment.
Both songs are on "Sarah Vaughan in Hi-Fi", a nice CD that collects the confusing batch of singles, 10-inch EPs and LPs that constituted Vaughan's early 1950s output for Columbia. Buy
here
.