1947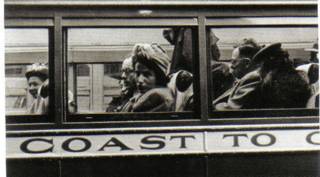 a one-way ticket
Louis Armstrong with Jack Teagarden, Rockin' Chair.
Duke Ellington, The Clothed Woman.
The revolutionaries at high middle age.
It had been twenty years since the amazements of their youth, twenty years since "Black and Tan Fantasy" and "Potato Head Blues" and "Muggles" and "East St. Louis Toodle-oo"--the records that turned jazz from a regional enthusiasm into an art. Now Duke Ellington and Louis Armstrong were close to 50--they were established, successful, revered. And irrelevant?
After all, Armstrong called bebop "Chinese music" and never attempted it, which even Benny Goodman did. But Armstrong had always been an entertainer first--he is one of those figures, like George M. Cohan or Elvis Presley, who come along in American music and seem destined to be its complete embodiment, even if that means embracing a whole lot of schlock. Bop, with its exclusionary airs, its antipathy to dancers, was poison to Armstrong.
So in '47, Armstrong ditched his big band and formed a smaller All-Star unit, placing his bet on nostalgia: Nostalgia for the old timey jazz, for the old songs, for music representing a time of camp meetings and dime stores, a world which, by '47, was quickly dying off, if not already dead. (If it even existed in the first place.) But it's not cheap nostalgia--Armstrong's playing is as clear as it was in 1925, while Teagarden's boozy singing is a delight, and the two of them take immense pleasure in each other's company. If the past has been closed off, Louis and Jack will create it again, note-perfect, for the length of a 78 rpm record.
Ellington couldn't follow that route. His eyes were always looking elsewhere, even at the height of his fame, and between the end of the war and the mid-1950s, Ellington entered a period of relative obscurity and at times, quite weird experimentation.
"The Clothed Woman" opens with Duke playing something close to atonal piano, enough so that I wonder whether many copies of the disc had a scratch a fingertip's breadth into the song after people pulled the disc off, wondering what sort of avant-garde crap they had purchased by mistake. After a bit, things begin to cohere--Duke finds a riff, and the horns come in to keep it going. Then, suddenly, 1:15 in, Duke rips into a sort of modernist ragtime, his right hand dancing out while his left keeps perfect, minimalist rhythm. And then it all falls back into quiet chaos again.
"Rockin" was recorded on June 10, 1947, with Armstrong, Teagarden, the underrated Bobby Hackett on cornet, Peanuts Hucko (clar), Johnny Guanieri (p), Ernie Caceres (clar), Al Hall (b), and Cozy Cole (d). It can be found
on this good basic Armstrong collection
. "Clothed Woman" was recorded in NY on Dec. 30, 1947, with Ellington legends Johnny Hodges and Harry Carney on sax, Harold Baker (tp), Junior Raglin (b) and Sammy Greer (d). A wonderful collection I cannot recommend enough is Duke's
Masterpieces
-- 4 CDs of genius for about $23.