1952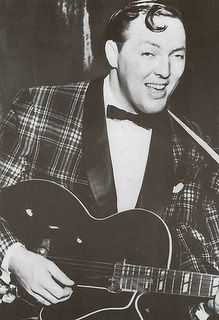 the revolution will wear plaid

Bill Haley and his Comets, Rock the Joint.
Bill Haley and his Comets, Real Rock Drive.
In most standard histories of rock & roll,
Bill Haley
is an early entry, depicted solely as the Guy Who Had the First Rock and Roll Hit and who then trundled off to obscurity. He seems to hail from a prehistoric era--photos of Haley show a moon-faced guy with a cowlick wearing a plaid jacket and bowtie that makes him look like a coat checker at Sardi's, while his Comets often appear a bit goofy, rocking out with, at various times, a steel guitar, accordion, or baritone saxophone.
But there's much more to Haley and the Comets, if you consider as them a vital link between late-generation Western swing and rock & roll. After all, Haley began as a pure country artist, though he lived in Pennsylvania. For a while, he billed himself as "The Rambling Yodeler,"wearing a full bright-red cowboy suit to gigs in bands like the Downhomers and
Range Drifters
. And the first band Haley led was the Four Aces of Western Swing (later the Saddlemen).
However, by 1951 popular tastes were changing, and wearing cowboy suits to shows in New Jersey was looking a bit ridiculous. So when Dave Miller, who owned the indie label Essex, suggested that Haley cover a current R&B smash, Jackie Brenston's "Rocket 88", Haley went for it.
Haley
sometimes unfairly gets lumped in with the whitebread carpetbaggers of the 1950s, the Pat Boones who took songs by black musicians and bled the life out of them. And, true, Haley's take on"Shake Rattle and Roll", for instance, sounds like a weak echo of the mighty Big Joe Turner original. But early on, Haley's versions held their own with the originals, sometimes even bettering them--kicking up the beat, making a harsher, sharper sound.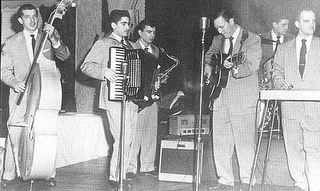 In 1952,
Haley
's band had begun to catch fire--by year's end they had changed their name to the Comets and had ditched the Western duds. One of their first regional hits was with another R&B reworking, Jimmy Preston's "Rock the Joint". Preston's 1949 original (listen to sample
here
) is wild, dense and fantastic, but Hale's version rocks about as hard and is blessed by a fine guitar solo by Danny Cedrone.
But the real gem for me is Haley's own "Real Rock Drive", a perfect fusion of Bob Wills and nascent rock music, driven by the insistent riff doubled on Billy Williamson's steel and Cedrone's electric guitar.
"Rock the Joint" was released as Essex 303 in April 1952, "Real Rock Drive" as Essex 310 in November '52. Besides the musicians previously mentioned, the Comets were Johnny Grande (p), Marshall Lytle (double bass) and Billy Gussak (d). Both tracks can be found on this
excellent compilation
. More
Haley merchandise
here. Fantastic Haley discography
here
.