1954
George Handy, Pegasus.
George Handy, Blinuet.

It is a summer evening in the late 1930s, and there is a stultifying society dance in a Brooklyn neighborhood rapidly going out of fashion. Swains, debutantes, bored middle-aged men are scattered all around, and a swing band is playing just what you'd expect—"Begin the Beguine," "Night and Day,""Isle of Capri."
On the stage, the pianist is an intense kid wearing glasses and scowling at everyone—the oblivious dancers, his fellow musicians and, most especially, the bandleader, who plays the accordion and who swings by the pianist every so often, like a teacher inspecting a child's finger painting. A new tune starts, and it appears the pianist is getting a solo: after a cursory run through the tune's melody, he begins spiking out chords, whirling across the keyboard, shattering the rhythm, throwing off his compatriots. It sounds like a Stravinsky piece, but demented.
The dancers look confused, some walk off the floor. The bandleader is flustered, his cheeks rouged with anger and embarassment, and he zips over to the pianist to get him to stop. At first, the pianist ignores him. The bandleader tries again, a wave of his hand as if to indicate the waning audience. "Hey, they're dancing," he pleads. "Play the melody." The pianist replies, quite loudly: "Fuck you!"
This was the pianist George Handy in his youth.
"
And the whole place stopped dancing. He sat down and went back to his shit like it never happened…We went on with the tune, and we played another tune whatever, society tune and, again, when it was George's turn, he went into Stravinsky, and Herb (the bandleader) talked to him again, and again George said, 'Hey, I told you to go fuck yourself.' And Herb said, 'Go home.' But George wouldn't go home. He went over to my vibes, and, oh, it was a scene. But George was different anyhow, of all the guys. But George has got talent."
So recalled the vibraphonist
Terry Gibbs
, quoted in Ira Gitler's
Swing to Bop
.
George Handy is the type of pioneer who never got the recognition he deserved, in good part because he didn't want it. After an intensive period in the late 1940s (in which he turned
Boyd Raeburn
's swing band into an avant-garde troupe), a few solo recordings in the early '50s and a period with Zoot Sims, Handy fell off the map, dying almost a complete unknown in 1997.
Handy, born in in Brooklyn in 1920, was of the generation of jazz players who attempted, with varying degrees of success, to incorporate the innovations of recent classical compositions, especially the works of Bartok and Stravinsky, into the more populist world of jazz.
He joined the Army in 1940, worked with Raymond Scott for a time and joined Boyd Raeburn's band at the Lincoln Hotel in 1944 (around the same time he worked as a songwriter for Paramount Studios). During those years, Handy was considered the hottest new arranger in jazz circles, regarded as the equal, if not the superior, of the likes of Neal Hefti, Billy May or Nelson Riddle.
After disappearing for a few years, he returned in the early '50s and recorded a pair of albums for RCA Victor's short-lived, esoteric "
Label X
." On the night of August 16, 1954, Handy and a hand-picked group of players taped a session in front of a group of friends at New York's Webster Hall, then regarded as a "large meeting place typically used for weddings" (according to the LP liner notes). (One of the worst nights I ever endured in NYC in the 1990s was at Webster Hall, in its latter-day
incarnation
as a hothouse overrun by club kids.)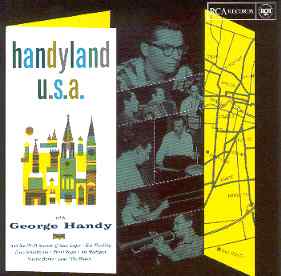 The session resulted in a great LP, christened with the uncompelling title
Handyland USA
and given the sort of LP cover that only the 1950s could produce--a farrago featuring a castle apparently drawn by Rankin-Bass, some "serious" band photos tinged so deeply blue that everyone seems to have cyanosis, and a driver's map of a gruesome series of highway intersections, cleverly dotted with track names.
Here are two tracks from it: the jaunty "Pegasus", which features a glorious opening solo on alto sax by Dave Schildkraut. And "Blinuet," in which Mozart meets cool jazz, could be Handy's most recognizable tune, as it was featured (in a version recorded by Zoot Sims) on the
Rushmore
soundtrack.
Players: Allen Eager (tenor sax), Danny Banks (bari sax), Schildkraut (alto sax), Kai Winding (trombone), Handy (p), Burke (b) and Art Mardigan (d).
Handyland USA
is found on import CD
here
. More on
Handy.
Top painting:
Dubuffet
,
The Cow with the Subtile Nose
.