6 Cardinal Colors: Orange
Charles Mingus, Song With Orange.
Henry Mancini, Orange Tamoure.
Henry Mancini, The Orange Float.
Frank Trumbauer Orchestra (with Bix Beiderbecke), Clarinet Marmalade.
Nat King Cole, Orange Colored Sky.
Love, Orange Skies.
The Band, Orange Juice Blues.
Luna, Orange Peel.
Pietro Mascagni, Gli Aranci Olezzano.
Dawn Upshaw, The Girl With Orange Lips.
Jimmy Dorsey Orchestra, Tangerine.
Led Zeppelin, Tangerine.
George Wilton Ballard, When It's Orange Blossom Time in Loveland.
Johnny Cash, Orange Blossom Special.
Muriel Rukeyser, The Ballad of Orange and Grape.
Lady Sovereign, Tango.
The Rudies, Orange Street.
Late lies the wintry sun a-bed
A frosty, fiery sleepy-head;
Blinks but an hour or two; and then
A blood-red orange, sets again.
Robert Louis Stevenson,
Wintertime
.
Forritsome
Orange is a color granted little respect; it is a clown color, a fashion misstep. A secondary color, its parents are fierce red and callow yellow, and like some children from brutal, ill-advised marriages, it has compensated for its chaotic heritage with a sense of inflated boldness-- it's the embodiment of the loud and ridiculous, a gander's color.
Alexander Theroux
bestows upon orange the obscure but fitting adjective "forritsome," a Scottish word meaning strong or bold. Victoria Finlay, walking in the city hall in Cremona, Italy, spies an orange-stained Stradivarius on display: "
It is the orange violin which jumps out straightaway, shouting: 'Look at me first!'; the yelow and brown ones don't make the same demands
."
And where some colors seem completely inseparable from music, orange is a wallflower, with little sense of rhythm or grace. Used in lyrics, "orange" is often a disaster, a limpet mine of a word that can take down a whole stanza, with its utter lack of rhyming partners and whose very sound is awkward to sing (the harsh "awwr" syllable, followed by the unsatisfying bit of teeth-gritting "inj").
Charles Mingus' "Song With Orange" was written for a never-produced TV drama in which a rich girl taunts her poet/piano-playing boyfriend by challenging him to write something with "orange" in the title. He couldn't, but Mingus did. Featuring an arrangment in which Mingus honors his debt to Duke Ellington, "Song With Orange" is from 1959's
Mingus Dynasty
.
And in terms of musical sound, orange's gawkiness persists. The instruments I most associate with orange sounds are the jokier ones, the Spike Jones contingent--accordions, kazoos, pennywhistles, washboards, bongos, maracas, gongs, Farfisa organs.
If you had to a choose a composer whose works seem steeped in an orange tint, my vote goes to Henry Mancini, the house composer of Hollywood's mortuary years, the grim period from 1960 to 1975 when the same people who had been making films since the introduction of sound were still in positions of power, and inflicting one lifeless, overblown picture after another upon a bored, dwindlng audience (
Dr. Doolittle
, How to Succeed in Business Without Really Trying,
Cat Ballou
, Camelot, Paris When It Sizzles
,
Cleopatra
, etc.). Mancini's pieces just seem orange--in their exuberant tackiness, their unmistakable period flavor.
The irresistable "Orange Tamoure" is from 1963's
Charade
, aka the best Hitchcock film Hitchcock never made (starring Audrey Hepburn, with whom Hitchcock was obsessed for a time, and who (wisely) never worked with him). Soundtrack
here
. And "Orange Float" is from 1975's
Return of the Pink Panther
, and conveys the sordid weariness of sitting in a cocktail lounge way past the time you should be in bed, suggesting half-hearted adulteries, watery drunkenness and the way the orange-brown carpet seems to be moving in the half-light. Find
here
.
Others grant orange a bit more musical dignity. Scriabin assigned to it the welcoming, easy-to-sing key of G major ("Georgia on My Mind,""Dock of the Bay,"
Eine Kleine Nachtmusik
, tons of country songs). And Theroux, for one, hears orange in the high C's that Louis Armstrong hits in tracks like "Potato Head Blues" and "Ding Dong Daddy (from Dumas)."
In Frank Trumbauer's "Clarinet Marmalade," from 1927, you can hear the sound of orange-hued exuberance. An old hit for the Original Dixieland Jazz Band, "Marmalade", in Trumbauer's hands, becomes a showcase for a number of emerging giants, including Jimmy Dorsey, who here provides the clarinet marmalade, Eddie Lang on guitar, Trumbauer himself on C-melody sax and Bix Beiderbecke on cornet, who soars over the rest; a few years later, a worse-for-wear Bix found, upon reading a transcription of this solo, that he couldn't play it anymore. Find on
Bix Beiderbecke Story
.

Dance the orange. Who can forget it?
How, drowning in itself, it struggles to
deny its sweetness. You possess it.
It preciously converts itself to you.

Dance the orange. The warmer season
weave around you, so it ripely shines
in the air of its homeland! Radiant, reveal

fragrance after fragrance! Create the liaison
between the pure, forbidding rind,
and the juice, with which this happy fruit is filled!
Rainer Maria Rilke, Sonnets to Orpheus.
Nothing is real
While orange is a natural enough color, something about its hue seems otherworldly to us, strange, bizarre, supernatural. It is a key color of psychedelia, and of surrealism: it is the color of the ant-covered watch in Dali's
Persistence of Memory
, or of the landscape of "Lucy in the Sky with Diamonds," with its tangerine trees and marmalade skies. In Bacon's utopia
New Atlantis
, the men wear orange shoes. The
Orange Alternative
was the name of an anarchist group that painted graffiti dwarfs on the walls of Communist Polish cities (a 1987 poster is shown above). When James Mason, in Nicholas Ray's
Bigger Than Life
, begins going mad after taking cortisone, one of his first acts is to make his wife buy an orange-colored dress.
Years later, Ray explained why he chose the color: "
The orange was inevitable...Later when the highway departments began using orange instead of red for the protection of road workers, and for important danger signs, I felt my psychology had been verified. Strange that it took us so long to wake up to that color. Perhaps because the literary strength of red. No significant orange literature."
"Orange Colored Sky" is one of Nat King Cole's biggest hits, from 1950, in which the mere presence of Cole's new love seems to wreak havoc with nature. With the Stan Kenton Orchestra. Find on
Greatest Hits.
And Love's "Orange Skies", in which the inspiration is more chemical if not less dramatic than Cole's, is from 1967's
Da Capo
.
The orange
Orange is unique among the colors in that it can be tasted--that is, via the fruit its identity is entwined with.
Like
homo sapiens
, the orange has slowly spread across the globe (and beyond--you likely recall the astronauts drank
Tang
). The citrus plant's origins are in Southeast Asia, with the earliest orange groves likely located in China (the first known reference to oranges comes in 500 B.C., in Confucius'
Five Classics
). At first, the orange makes tentative steps eastward, to Japan and other Pacific islands, but then changes course and heads west, as if on a grand aristocratic tour of emerging civilizations. It appears two thousand years ago in India, where it is mentioned in the
Charaka-Samhita
. And then, caravansary by caravansary, the orange reaches Persia, where it at last given its familiar ancestral name,
narang
, itself derived from the Sanskrit
nāraṅgah
.
Then it is a journey ever westward, from Persia to today's Israel and Lebanon, then to Northern Africa and the Mediterranean. The Crusaders brought oranges to Northern Europe upon return from their wars; their opponents the Arabs introduced the orange to Spain.
St. Augustine wears orange in contemplation
"Gli aranci olezzano" (something like 'the scent of the orange trees') is from the beginning of Pietro Mascagni's
Cavalleria Rusticana
, from 1890, one of the few '
verismo
' operas (essentially, an Italian version of Naturalism) that remains popular today. "Olezzano" is sung by the peasants of a Sicilian town in which the action occurs--it's a celebration of love and nature that comes before the eruption of violent passions by the opera's doomed lovers, Alfio, Turridu, Santuzza and Lola. This recording, from 1966 and conducted by Herbert von Karajan, can be found
here
.
Oranges have bloomed seemingly everywhere--there was even a vogue for oranges in Elizabethan England: Sir Francis Carew planted orange trees in Surrey in the 1560s, which outlived the Tudors and Stuarts and at last died in 1740, killed by a hard cold winter, while Thomas Cardinal Wolsey, walking in Tudor London, would carry a hollowed-out orange in which he had placed a sponge saturated in vinegar; when the smells of London proved too much, he would bring the orange to his face and bury his nose in it. And it was around this time when children in England began to sing "
Oranges and lemons/say the bells of St. Clemons
."
And when the galleons of Queen Isabella sailed to North America, the orange came with them--the orange groves of Florida and California, which have become some of the world's largest producers of the fruit, are immigrants. Pizarro brought the fruit to Peru, de Soto to Florida and Catholic missionaries carried it to California.
At the time John McPhee was writing his fantastic essay
Oranges
in the mid-1960s, there had been a sudden shift in American tastes toward favoring concentrate instead of drinking naturally-squeezed orange juice. Orange juice concentrate--that is, boiling orange juice, separating it and reassembling it, adding flavor and freezing it into small metal cans--became huge after WWII, to where, by 1965, U.S. per capita consumption of fresh oranges had fallen by 75%. It was a typical postwar move, in which the cumbersome past was discarded for the homogenized, cheap present--it is the story of urban renewal in miniature. Of course, by the 1980s and '90s, people grew tired of drinking concentrate, prompting a renewal in "freshly squeezed" orange juice in cartons. No doubt the wheel will turn again and people will be chewing orange concentrate pills by the year 2030.
I the Trinity illustrate,
Drinking watered orange-pulp--
In three sips the Arian frustrate
While he drains his at one gulp.
Robert Browning,
Soliloquy of the Spanish Cloister
.
"Orange Juice Blues", or "Blues for Breakfast," was one of the songs the Band was performing during the "Basement Tapes" sessions of 1967--most of the Tapes are Dylan compositions or other covers, but a handful of Robbie Robertson and Richard Manuel songs were tried out as well. "Orange Juice Blues" is Manuel's, and this take is a piano demo likely recorded in late 1967--the Band would overdub it and release it officially in 1975 on The Basement Tapes. This version is on the remastered CD of
Music From Big Pink.
And the lovely "Orange Peel" is from Luna's 2002
Romantica
.
Old man Magot is not satisfied merely eating oranges, and soon, with fatal glee betrayed by the fecal glint in his eyes, he throws an orange peel at one of the customers, a frumpish mother of nine packed into a rayon housedress.
Rikki Ducornet,
Spanish Oranges
.
By the 1920s, Florida had become synonymous with oranges, so much that in 1925, a new luxury passenger train began running, gloriously shuttling the rich from the old Pennsylvania Station in New York to their winter homes on the Atlantic coast of Florida. It was called the "Orange Blossom Special", and a song named after it became a country music standard. The fiddlers Chubby Wise and Ervin Rouse, as the story goes, were standing in the Jacksonville Seaboard Railroad Station when the Orange Blossom came through on its maiden run from Miami. Rouse suggested they write a fiddle tune about it, and so it went. "Orange Blossom Special" was first recorded in 1939 by Ervin and his brother, and became a hit with Bill Monroe's 1942 take. Pretty much every country musician worth his/her salt took it on in the decades to come, from Buck Owens to Johnny Cash, whose version here is from his 1968
Folsom Prison
concert.
Orange ladies
In the mirror of the moon
young girls with breasts of oranges dress their hair.
Salvatore Quasimodo
, The Dead Guitars.
Orange is not completely a joke--it has its share of intrigue and allure, and is not a stranger to romance. Women who wear orange are a long-standing source of mystery--Mary Magdalene was often depicted wearing orange, Frank Cadogan Cowper's
La Belle Dame Sans Merci
(above) is a study in haunted orange and "The Girl With Orange Lips," from Earl Kim's 1982 song sequence
Where Grief Slumbers
, takes its lyrics from the Rimbaud poem "
Illuminations
", in which:
At the border of the forest-- dream flowers tinkle, flash, and flare,-- the girl with orange lips, knees crossed in the clear flood that gushes from the fields, nakedness shaded, traversed, dressed by rainbow, flora, sea.

Ladies who stroll on terraces adjacent to the sea; baby girls and giantesses, superb blacks in the verdigris moss, jewels upright on the rich ground of groves and little thawed gardens,-- young mothers and big sisters with eyes full of pilgrimages, sultanas, princesses tyrannical of costume and carriage, little foreign misses and young ladies gently unhappy.
Performed by Dawn Upshaw
here
.
Orange is assocatied with femmes fatales as well--Johnny Mercer and Victor Schertzinger's "Tangerine," from 1941, plays off screen in the final, crucial scene of
Double Indemnity
. Here it is performed in its most widely-known version (the highest-charting version) by the Jimmy Dorsey Orchestra, with vocals by Helen O'Connell and Bob Eberly. Find
here
.
Decades later, Robert Plant, whiling away the hours at his cottage in South Snowdonia, recalls a dream he once had. On
Led Zeppelin III
, from 1970.

Ah, Beloved do you see those orange lilies?
They knew my mother
But who belonging to me will they know
When I am gone.
Amy Lowell
,
The Garden by Moonlight
.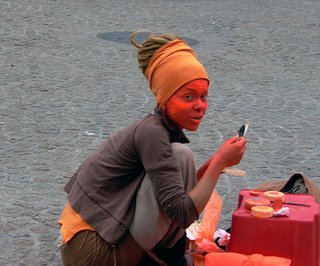 "Orange Blossom Time in Loveland," was a popular hit from 1916, performed here by George Wilton Ballard.
Bad taste
Romance aside, orange is also the color of glorious bad taste, of the goofy and the fake, of Chee-tos and Cheez Whiz, of
Charles Finley
's orange baseballs to the orange roofs of Howard Johnsons, to the orange-brown cat-vomit color that defined interior decorating in the 1970s.
It is a color that, once neglected, seems irredeemably sad. Take
Muriel Rukeyser
's "The Ballad of Orange and Grape," in which orange is one of the mismatched colors on a slum street's hot dog stand. Recorded in 1968, find in
Collected Poems
.
Or the
Orange Line
, one of Boston's four subway lines, which lacks the prestige of the Red Line or the tourist overuse of the Green Line, due in great part to the neighborhoods it travels through. In a classic example of Boston Brahmin snobbery, I once had a woman in Brookline look incredulously at me when I asked her about a stop on the Orange Line. "I've never ridden on that line
in my life
," she said, and I believed her.
Orange conveys dandyism, a sense of having little shame, of being too rich or too poor to care what others think. On the wealthy end of the spectrum, take the playboy goaded in Carly Simon's "You're So Vain," whose "scarf was apricot" (prompting one of the best put-downs of all time from Robert Christgau, who said,
"If a horse could sing in a monotone, the horse would sound like Carly Simon, only a horse wouldn't rhyme 'yacht', 'apricot' and 'gavotte").
Posh Spice, watching the World Cup, shows off her orange-on-orange look.
Or the ever-present threat of the fake tan, which has been with us since 1923, when sunlamps were first advertized in
Vogue
. The current devolution is best summed up in Lady Sovereign's lampoon "Tango," from last year, in which one grotesque fake-tanned girl leaves an orange trail wherever she goes:
the toilet seat ain't clean--
the toilet seat has an orange sheen!
Bring out the detergent!
Scrub that Oompa Loompa it's urgent!
Have you seen her face--its disturbin'
how much fake tan are ya squirtin'?
"Tango" is the b-side of Sov's
"9 to 5" single
. Sov's (or Sov's PR people's)
Myspace page
.
And at last, fade out on Orange Street. Recorded by Rico and the Rudies in 1964. On
Jamaican Memories.

But me? One day I am thinking
of a color. I write a line about
orange. Pretty soon it is a whole
page of words, not lines. Then
another page. There should be
so much more, not of orange,
of words, of how terrible orange is
and life. Days go by. It is even
prose. I am a real poet. My poem
is finished and I haven't
mentioned orange yet.
It's twelve poems, I call ORANGES.
Frank O'Hara,
Why I Am Not a Painter
.
Cover star: mighty Zadie Smith wins the Orange Prize, June 2006.
Next:
I have lived long enough: my way of life
Is fall'n into the sear, the yellow leaf;
And that which should accompany old age