1946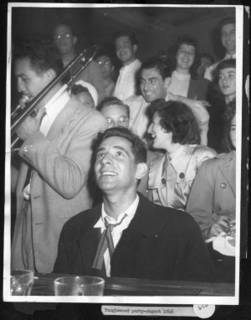 you missed a great party
Johnny Moore & the Three Blazers (featuring Charles Brown), I'll Get Along Somehow.
Charles Brown, a brilliant pianist and singer, is another neglected founding father of R&B, though he received some recognition in the years before his death in 1999, in part due to the efforts of Bonnie Raitt. Brown is best known for his "Merry Christmas Baby", though the version played during the holidays is most often the Bruce Springsteen cover.
Brown came late to music--he had a degree in chemistry, taught high school science in Texas during the war. He moved to Los Angeles, took work as an elevator operator, and entered a talent contest at the Lincoln Theater just to see if he was any good. Not only did he win, but in the audience were guitarist Johnny Moore and bassist Eddie Williams, who asked Brown to join their trio.
Postwar Los Angeles was burgeoning with music from all genres (mild case in point--nearly every song I've posted since "KoKo" was recorded there), and the Three Blazers was one of its best synthesizers. Much like the Nat King Cole trio (Moore's brother played guitar with Cole), the Three Blazers offered a quieter, moodier incarnation of jazz and blues. Theirs was the sound of the after-hours nightclub--jazz without freneticism, blues without a country accent.
"I'll Get Along Somehow" was first a hit for one of Brown's major influences, Pha Terrell, but this is the definitive version for me, featuring Brown's lazy, quiet and irresistable singing, as well as his assured piano playing and Moore's nice guitar accompaniment.
Life of Mr. Brown
.
From the amazing "American Pop: An Audio History", a nine-disc compilation that ranges from 1893 to 1946, but which sadly is out of print. It also can be found
here
.