1949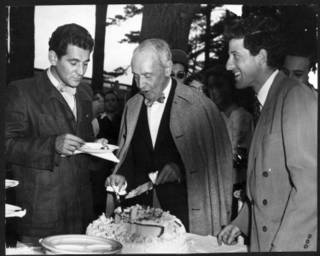 "
Anybody who wanders around the world saying, "Hell yes, I'm from Texas," deserves whatever happens to him.
"
Art Tatum, Blue Skies.
There is the oft-told story in which Fats Waller, spying the pianist
Art Tatum
in the crowd one evening, tells the audience "God is in the house tonight." Tatum could inspire idolatry--he can appear to be a sort of strange, elemental force, standing both within and outside of jazz (he never considered himself a jazz player), untouchable, like some pure embodiment of improvisation.
While Tatum recorded a number of brilliant duets and trios (in particular, his work with Ben Webster in the '50s), he often seemed most comfortable alone at the keyboard, where his only rivals were Liszt and Chopin. Here he takes on Irving Berlin's "Blue Skies"--after a moody intro, he offers the Berlin theme relatively straightforward until, about 40 seconds in, he begins to break it apart. Berlin's melody is one of the most hummable ever crafted, but Tatum begins to alter the tempo at whim, throwing in odd chord subsitutions or filigrees, as though he's trying to find further reservoirs of sound buried in the tune, and never resting (his hands don't seem to leave the keyboard throughout the performance).
By song's end, he has fractured it into something wholly new (one reviewer has heard a phrase from Thelonious Monk's "In Walked Bud" (recorded in '47) at the end, which, if so, would be a very rare homage by Tatum to one of his contemporaries.)
"Blue Skies" was recorded on September 29, 1949. You can find it with other '49 Capitol solo performances
here
.
Today is my birthday, so here's a bonus song:
Frank Sinatra and Tommy Dorsey, Blue Skies.
From 1941, when you could still hear the dew in Sinatra's voice. Bliss.
Goodbye
Raoul Duke
. A lot of people cite
Fear and Loathing in Las Vegas
as their favorite Hunter S. Thompson work, but for me it's "
The Kentucky Derby is Decadent and Depraved
," a magazine article he wrote in 1970, and which made the business of writing and reporting seem to be the best job in the world. At least he outlived Nixon and Reagan, two of his favorite enemies.