1949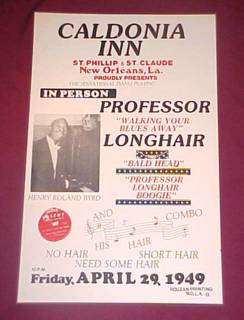 "down on Rampart and Dumaine"


Dave Bartholomew, Messy Bessie.
Dave Bartholomew, Basin Street Breakdown.
Paul Gayten (with Annie Laurie), My Rough and Ready Man.
Professor Longhair, Hey Little Girl.
For Ash Wednesday, here is the polar opposite of
lenten music
. In terms of recordings, New Orleans, the crib of much of America's popular music, came late to rhythm and blues. Not that the city's musical talent had diluted, but the record companies had for years bypassed New Orleans, or had mined it solely for Dixieland old-timey jazz, ignoring the strange mutating music coming out of clubs like the Robin Hood, or the Dew Drop, or Club Rocket. But when New Orleans R&B hit, it left nothing standing in the same place.
In 1947, two brothers named Braun, from Linden, New Jersey, came to New Orleans to start up a record label, which became known as DeLuxe. They had the pick of the crop--signing two men who had become, in the years after the war, the city's top bandleaders and who had already fused jazz, blues and boogie woogie into something wild, a peacock music, dandy and exuberant.

Dave Bartholomew
, born in 1920 in Edgard, La., a town a day's walk west of New Orleans, was taught to play trumpet by Peter Davis, the man who had musically tutored Louis Armstrong. So it's no surprise Bartholomew viewed himself as Armstrong's successor, the man who would craft and lead the postwar New Orleans sound. Bartholomew assembled a killer band, including the young genius drummer
Earl Palmer
and saxophonists like Clarence Hall and Joe Harris, and in "Messy Bessie" you can hear the sound they made together. "Messy Bessie" starts with a rhumba-inspired rhythm, the rolling piano of Fred Lands matched by Palmer's
second-line
drum shuffle, buoys along on Bartholomew's vocal and then is overtaken by a wagging, flamboyant alto sax solo by Harris.
"Basin Street Breakdown" is the Bartholomew band going at full tilt and features, for about 55 seconds and 44 bars, an unbelievable guitar run by Ernest McLean--the same string of notes repeated, over and over and over again, sounding like a cosmic telegraph signal.
Mr. Gayten and Ms. Laurie
Bartholomew's biggest rival, also signed by the Brauns for DeLuxe and later for another label, Regal, was
Paul Gayten
. Like Bartholomew, Gayten was born in 1920, in a town close to New Orleans, and to a musical family. But Gayten's sound was more conventional--a pianist, he was inspired by the smoother music coming out of wartime Los Angeles, like Charles Brown and Nat King Cole. But that changed when he found Annie Laurie, a woman with a soul-soaked voice who could sing the hell out of anything she got. In "Rough and Ready Man," Laurie takes what had become an R&B staple--an off-color ode to a female singer's man--and offers a wild mix of scat and gospel-fueled singing. It's unclear who plays the excellent tenor sax solo, Gayten regular Lee Allen or former Count Basie player
Buddy Tate
.
"
Once the band starts, everybody starts swaying from one side of the street to the other, especially those who drop in and follow the ones who have been to the funeral. These people are known as the 'second line' and they may be anyone passing along the street who wants to hear the music. The music hits them and they follow
," Louis Armstrong on New Orleans funerals, via
Ishmael Reed
.
In the summer of 1949, two talent scouts from New York come into the Pepper Pot Club in New Orleans and immediately get hassled by the bouncers, who think that the only reason white men have shown up is to bust the patrons. After an argument, the scouts sulk into a booth. Their luck hasn't been good--the label they partially own, Atlantic, has had flop after flop--no one wants to hear their upscale jazz sound. They need something else. They become aware of a man with a messy nest of hair who is playing upright piano in the club, at times striking keys with his fists, with a microphone between his legs and a drumhead attached to the piano, which the man thumps with his right foot while playing.
One of the scouts,
Ahmet Ertegun
, would later recall: "
It was the most incredible thing I'd ever heard...I thought, my God, we've really found an original. No white person has ever seen this man
." As soon as the pianist finishes, the New Yorkers rush up to him, shaking his hand, begging him to record with them. The pianist grins, shakes his head, and says, "
Oh what a shame--I just signed with Mercury
."
Even at the top of their games, Gayten and Bartholomew couldn't quite match up to
Professor Longhair
, the most feral musical force New Orleans produced in the '40s. Born Henry Roeland Byrd in Bogalusa, La., in 1918, Longhair learned to play from New Orleans' long line of 'barrelhouse' pianists--that is, musicians who played in whorehouses and clubs, and, because of the sorry untuned state of the pianos they were given, had learned to craft a heavy, dense rhythmic sound, playing the piano like drummers or, at times, like Chico Marx.
One night, Longhair sat in at the Caldonia Inn, where Bartholomew's band was playing, and his playing, uncouth and bass-heavy, got the crowd so frenzied that the Caldonia's owner fired Bartholomew's band on the spot and hired Longhair.
Despite his ties to Mercury, Longhair ultimately did record with Ertegun's Atlantic label. In November 1949, for $100, Longhair recorded nine tracks for Atlantic, including "Mardi Gras in New Orleans," "Walk Your Blues Away" and "Longhair's Blues Rhumba." Here is "Hey Little Girl", dominated by Longhair's striding piano and croaking vocal, with John Woodrow laying the shuffle down on drums.
All these tracks can be found on one fantastic cheap 4-CD set,
Gettin' Funky
, which you can buy from the compiler, the UK's Proper Records,
here
, or domestically
here
. Many of the details I've included come from Joop Visser's excellent liner notes.
New Orleans, 1949, as seen
by air
.