1952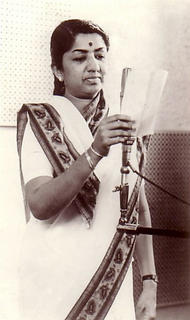 Mighty Lata
Lata Mangeshkar, Vande Matararam.
"Vande Mataram" (which translates roughly into "Hail, Mother" ) has existed,
in some form
, for about 125 years. An Indian equivalent to "La Marseillaise", a version was first composed by Bankimchandra Chatterjee in 1875 as a response to heightened British attempts to force "God Save the Queen" upon the Empire's Indian subjects as their national song. Included in Chatterjee's 1882 novel
Anandmath
, a recounting of an 18th Century Hindu rebellion, the song soon became entwined with the nascent Indian independence movement, sung by Rabindranath Tagore at the Indian National Congress of 1896, and soon banned by British authorities, who at times destroyed early recordings of the song.
From 1900 until 1950, the song, originally written in "
Sanskritized
" Bengali, roved throughout the subcontinent, its lyrics altering as it travelled in dozens of tongues, its tune radically changing as well--composers set "Vande Mataram" from everything to marches to Vedic chants and ragas. More than a hundred recordings were made.
One of the best is a full-force Bollywood rendition by
Lata Mangeshkar
. Mangeshkar,who may have recorded 40,000 songs in her career, made this track of "Vande Mataram" for a 1952 film version of Chatterjee's
Anandmath
, of which I know absolutely nothing. The song is a marvel, though, a fusion of pop and raga, in which Lata begins each of three verses with a different, spiralling melody; in the first two verses (the second verse is especially beautiful), she is cut off by a chanted mantra-like chorus, in the third, she gets to dance a bit longer.
(The chorus, which sticks in your head after a listen, actually saved my sanity once--I chanted it silently one afternoon upon being stuck on a crowded N train between stations for over an hour.) My copy is from a cassette a friend gave me years ago--I'm not sure where you can buy it on CD, but it apparently is on iTunes.
Suresh Chandvankar: "
No other song in Independent India has received so much attention. This is probably because we Indians do not consider this as the national song or Anthem. We treat it as the song of our culture, a 'Prateek' or living symbol. In Hindu culture, the mother is considered a God, and worshipping the mother through songs is an age-old tradition...That is why the song keeps reappearing again and again in different forms. It will be no great wonder if it gets set to an assortment of new musical idioms - even jazz, rock, rap or metal - in the 21st century
."
When a heavy metal version does appear, please let me know.
There is
some controversy
about whether "Vande Mataram" should be made an obligatory Indian national song.