1953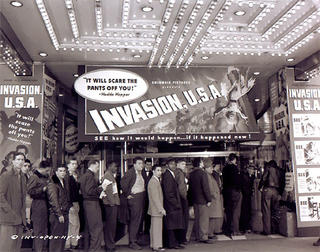 Ray Charles, It Should've Been Me.
The Drifters, Money Honey.
The rock & roll attitude at birth. Both records, Ray Charles' and the Drifters' first major hits for Atlantic, share a new sensibility--brash and cocksure; the singer's a bit full of himself, and full of jive. A nation of impending teenagers awaited instruction--here are the first marching orders.
The first time I heard "It Should've Been Me," I (and my friend) thought Ray was singing, "
It should've been me--with that real white chick
." Ray hasn't found his mature style yet--this track is still heavily under the influence of Louis Jordan--but it's a hoot all the same. Recorded on May 17, 1953 and released as Atlantic 1021. On
The Birth of Soul
.
The Drifters
had two main incarnations--the world (or at least the oldies stations) favors the more genteel Ben E. King version, but this is the frantic, brassy Clyde McPhatter edition of the early '50s. The singer's got troubles with his girl, his landlord and the world, in that order. Recorded August 9, 1953 and released as Atlantic 1006; it can be found on
Atlantic R&B Vol. 2
.