Paper Anniversary (1945-1953)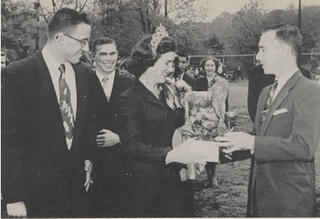 Dizzy Gillespie and Charlie Parker, Salt Peanuts.
Texas Ruby, Don't Let That Man Get You Down.
Joe Liggins, The Honeydripper.
Gene Krupa Trio, Dark Eyes.
Fred Astaire, Puttin' on the Ritz.
Sister Rosetta Tharpe and Marie Knight, Up Above My Head I Hear Music in the Air.
Hadda Brooks, That's My Desire.
Buddy Johnson and Ella Johnson, I Don't Care Who Knows.
Dexter Gordon and Wardell Gray, The Chase.
Pee Wee Crayton, Blues After Hours.
Delmore Brothers, Pan American Boogie.
Yves Montand, Rue St. Vincent.
William Faulkner, Nobel Prize Acceptance Speech.
Muddy Waters, Louisiana Blues.
T-Bone Walker, Strollin' with Bone.
Earl Bostic, Flamingo.
The Larks, Eyesight to the Blind.
The Boyer Brothers, Step By Step.
Ole Rasmussen and His Nebraska Cornhuskers, C Jam Blues.
Dizzy Gillespie, Charlie Parker, Bud Powell, Max Roach & Charles Mingus, Salt Peanuts.
A year ago, I started this semi-public habit with the hope of spurring myself to write more, for lack of a better phrase, "creative" work. I have long had a tendency to begin projects and then happily abandon them, and so I thought a minor degree of self-publishing would boost my weak work ethic. What I failed to anticipate is how this blog would become about as consuming as my paying work, all while the long-awaited creative writing remains mostly stillborn.
For the most part, I'm fairly happy what I've put up, though there are exceptions--dud entries, uninspired song choices. I've also wanted to be funnier--there's a certain ponderousness to this project that I'd like to shake.
What else? After a solid start, there have been far fewer "classical" pieces than I expected to offer, but I found it hard to incorporate, for example, an aria from a Britten opera into a run of R&B/country posts. There have been hardly any Broadway songs, which is a shame, as the 15 years after WWII were a golden age for musical theater. My attempts at exploring non-US music have been mainly confined to the French at the expense of the rest of the world. Ah well.
So: onward. For a bit longer. I first considered starting with the year 1900 and running the whole 20th century, but I had neither the stomach nor the record collection to do the first quarter of the century any justice. So I felt 1945 was a good compromise, as it was Year 1 in several senses--musically, as it was the start of bebop, honky tonk and R&B; and culturally. 1945 was when a new world began; a world that, increasingly so over the past five years, seems to be dead and gone.
We're living in a different clime now, and this blog, if it has done nothing else, has tried to show just a bit of what's been bequeathed to us by persons already lost to memory.
Nine years
Here is a heap of songs from the '45-'53 period:
1945:
The Parker/Gillespie performance of Gillespie's "Salt Peanuts" is from the newly-discovered Town Hall concert, recorded on June 22, 1945--little more than a month after the definitive studio version of "Peanuts" had been recorded. This finding is pretty amazing, as no live recording of Parker and Gillespie from this period (especially in this type of quality) was believed to have existed. It's like discovering a lost Annal of Tacitus, a missing Patrick Troughton episode of
Doctor Who
. Buy
this essential disc.
Texas Ruby
came from the Texas plains and she never shook off the grit. Find "Man"
here.
I put up Joe Liggins' "The Honeydripper"--ground zero of postwar R&B--early on, when about eight people read this blog, and have had some requests for a repeat. This is actually an alternate version, either a different take or edit, in which the vocal refrain starts far earlier.
Liggins' best.
Gene Krupa, Benny Goodman's former drummer turned bandleader, was catching hell from his big band in the studio one day--the strings and brass players were griping about pitch problems. Finally Krupa, disgusted, sent everyone home but the pianist Teddy Napoleon and tenor saxophonist Charlie Ventura. Then the three recorded "Dark Eyes".
More Krupa than you'd ever need.
1946
: Fred Astaire first recorded the original version of Irving Berlin's "Ritz" (with references to Harlem, Lenox Avenue and "high browns" walking around) in 1930; here is a bowdlerized version in which the action has moved downtown to Park Ave. From the '46 film Blue Skies, which is pretty lousy. On this great
Astaire comp.
1947
: Sister Rosetta Tharpe and Marie Knight were gospel singers with the urge to make R&B records: "Up Above My Head," in which the Holy Ghost is seemingly captured on record, is one remnant of their journey. The women start out hearing music above them, but in the second verse, it becomes the far less comforting "trouble in the air". Like Tharpe's "Strange Things Happening Everyday," it's a sign of apocalypse set to a joyful tune. On
Gospel of the Blues
.
That's her desire, and who could've turned Hadda Brooks down? Not me. Brooks, a brilliant vocalist and pianist, as well as a knockout, is woefully neglected today.
Get to know her.
Buddy and Ella Johnson were siblings: Buddy provided the songs, Ella was their ambassador. They would play together for decades--listen to more on
Jukebox Hits
.
Dexter Gordon and Wardell Gray's saxophone duel "The Chase" is one of the extraordinary jazz recordings of the postwar years, worshipped by Kerouac and Neal Cassady, and neglected by Locust St. at the time because I thought I had lost my copy of it. But lo and behold, while moving house I found, in a box full of jaundiced newspapers, my copy of an old compilation LP called "Jazz in Revolution". Moving has its few consolations. You can find "Chase" on CD
here
.

Brief roadmap, for those interested in this sort of thing:
16-bar intro, 32-bar main theme: everyone.
Solo choruses (all 32-bar): 1st: Gordon; 2nd: Gray; 3rd: Gordon; 4th: Gray; 5th: Jimmy Bunn (p); 6th: Gordon.
8-bar exchanges: Gray; Gordon; Gray; Gordon.
4-bar exchanges: Gray;Gordon (repeat 3x).
Final chorus (4-bars each) : Gordon/Gray unison; Gordon; unison; Gray; Gordon; Gray; unison;Gordon.
Theme recapitulation--everyone (w/Bunn on middle eight).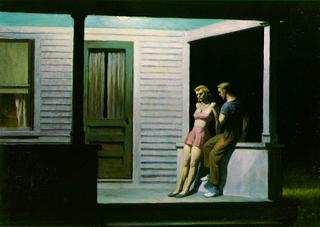 1948
: The guitarist Pee Wee Clayton's "Blues After Hours": the sound of an ebbing summer night in a club long lost to time. On
Modern Legacy Vol. 1.
1949
: In his autobiography, Alton Delmore recalled the Delmores' first recording session, when the brothers heard their voices played back for the first time. "
There was something divine in that little can...that helped us immensely and changed us from two country farm boy singers to something 'up town' and acceptable to listeners...that was the whole secret of our good luck. Our voices took well to the microphone
." Find "Pan American Boogie"
here
.
1950
: Yves Montand's "Rue St. Vincent" was one of the countless recordings Montand made in the '40s, '50s and '60s that became, in common, an alternate history of France, a grand suggestion of life. It wound up in Wes Anderson's
Rushmore
: Max Fisher ineptly attempts to seduce his dream crush, Miss Cross, while Montand purrs away in the background, oblivious.
Faulkner, having won the Nobel Prize in 1949, gave the
following speech
in Stockholm on December 10, 1950. (The idea of Faulkner wandering the streets of Stockholm is pretty hilarious--I'm surprised no one's done anything with the idea). "
I decline to accept the end of man
."
"
Let's go back to New Orleans, boys
." Muddy Waters' "Louisiana Blues" is on
Anthology
.
In "Strollin' with Bone", T-Bone Walker takes on a hot R&B band and wins. Around 1:15 into the song, he creates a Chuck Berry riff and moves on. On
Blues Masters
.
1951
: Earl Bostic was the sort of loud, big-toned, vulgar saxophonist that jazz fans of the '50s simply
hated
, especially because Bostic got jukebox hits, like "Flamingo", while the likes of Lennie Tristano remained in obscurity. One of the last jazz musicians whose primary emphasis was keeping dancers on the floor, Bostic is what he is--pure buzz-toned entertainment. More on this
2-CD retrospective
.
The
Larks
' "Eyesight to the Blind": in which a fallen gospel group transmogrifies a Sonny Boy Williamson blues into vicious doo-wop. Find
here
.
1952
: "Step by Step" was the first record issued on Nashville's Excello label, which started out releasing gospel sides and wound up becoming a R&B/soul factory. The Boyer brothers were high school pianists from Winter Park, Florida; I don't know what became of them after this record, but I thank them for it--it's beautiful. On
Excello Story Vol. 1.
Ole Rasmussen was a Swede from Nebraska who became, for a brief moment, the greatest Bob Wills imitator in the world. He stole
everything
--Wills' trademark asides and "
yeah
!s"; his singer was a clone of Wills' Tommy Duncan, his slide player a cut-rate Leon McAuliffe. But sometimes Ole blew past his limitations: his version of Duke Ellington's "C Jam Blues" is his finest record, the type of wild fusion of jazz, blues and country that was just about to become extinct. On
Sleepy Eyed John
.
1953
: At last, we come full circle with "Salt Peanuts", this time at Massey Hall, Toronto, on May 15, 1953. Where to hear the Town Hall show in 1945 is to be present at the creation, hearing the Massey Hall concert is to witness the late autumn of bebop--a summing up of glories.
For some (the up-and-coming Charles Mingus, who organized the show and taped it, and Max Roach, who would persevere in excellence for years to come), the show was just another milestone, but for Parker, it was close to the end--this would be his last great performance before his death in 1955. Bud Powell, increasingly in ill health, was spiraling downward as well, while Gillespie, his greatest work behind him, would move on to become a genial jazz statesman, whether on a government-sponsored tour of South America or
The Cosby Show
.
It was, from all accounts, a mess of a concert--the hall was half-empty because of a prizefight occurring at the same time; Gillespie and Parker almost missed the show due to an overcrowded plane; Parker showed up with only a plastic white saxophone. Still, the music this once-in-a-lifetime quintet made for a half-hour in Toronto that night was astonishing and vital--the sound of titans.


(That said, the recording of the Massey Hall show was muddy and weak, causing Mingus to overdub his performance in the studio later--thus, this is not a pure document of the concert. But what recording of a live show ever is, really?)
Is Bird's intro to "Peanuts," in which he calls Gillespie his "worthy constituent", a tribute or a veiled insult? On
Quintet at Massey Hall
.
Paintings: Pierre Bonnard, Last Self Portrait (1944-45); Jacob Lawrence, Barbershop (1946); Edward Hopper, Saturday Night (1948); Jackson Pollack, No. 31 (1950); Pablo Picasso, Françoise, Claude y Paloma (1951); Helen Frankenthaler, Mountains and Sea (1952)
.
Etc.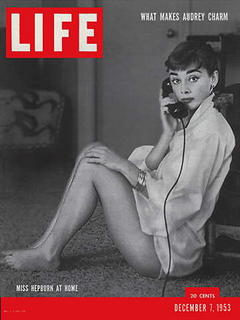 More people visit this site because they're looking via Google Images for pictures of Saul Bellow, Hank Williams, "Cosmopolitan" and "The Third Man" than for any other reason. Hope I helped.
Thanks to:
Tofu Hut
,
Soul Sides
,
Honey Where You Been So Long
and
Moistworks
, which were my impetus and which remain the best of the lot;
The Mystical Beast
(apparently soon to be retiring, sadly) and
Norwegianity
who have said some kind things about this site over the months;
Big Rock Candy Mountain
, the Reverend Frost's
Spread the Good Word
and Kat's
Keep the Coffee Coming
, which have been my biggest referrers and some of my favorite sites. Fine new blogs like
Long Sought Home
. And the rest of you on the blogroll and beyond.
Top countries, in terms of visitors: US, UK, France, Germany, Canada, Netherlands.
Countries whose residents have only visited here once during the year: Ghana, Iraq, Ecuador, Pakistan, Kazakhstan, Albania, Bahrain, Belarus, Bulgaria, Morocco. Also, one time someone from "Europe".
Thanks for coming.