1948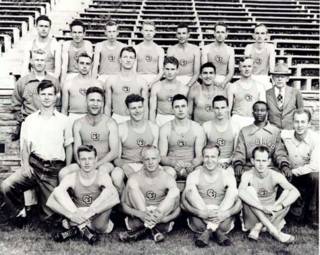 Enough to last to 1992
Nellie Lutcher, Fine Brown Frame.
Julia Lee, King Size Papa.
Both Nellie and Julia have a thing for large men, but while Nellie just likes a well-proportioned guy, Julia likes them
big
. Let her tell you about it.
Nellie Lutcher came from Lake Charles, Louisiana and, soon after she moved to Los Angeles, she exploded into R&B, having hits with her own material like "Hurry on Down" and "He's a Real Gone Guy." By the end of 1947, she was the second biggest-selling R&B star in the country, dwarfed only by Louis Jordan. People were taken by Lutcher's wild, brilliant phrasing and scatting, which you can hear in the second half of "Fine Brown Frame" as she grows increasingly delirious with lust.
"Fine Brown Frame" comes from a marathon session at year-end '47, in which Lutcher and her band cut two dozen tracks in preparation for what would be a bizarre year in the recording industry. This stockpiling happened in studios across the country, as the head of the Musicians' Union, James Petrillo, had called a recording strike to begin on January 1, 1948. The strike would last until Christmas – it would be the second in six years. The first strike, in 1942-1944, had had catastrophic historical damage, as we lost much of what would have been the transitional records between swing and bebop.
The '48 strike, which was widely violated by many independent labels and which helped create doo-wop (
a cappella
groups still were allowed to record), marked the end of Petrillo's quixotic battle against a host of enemies, including films, radio, television and the general concept of prerecorded musical performances. As cruel fate would have it, Petrillo lived long enough to see MTV.
"King Size Papa" is a marvelously dirty song. Julia Lee was a generation older than Lutcher, but she hadn't lost her salt. Born in Boonsville, Missouri in 1902, Lee grew up in Kansas City and came of musical age at the height of Kansas City's renaissance, the era of Count Basie and the young Charlie Parker, and gained a reputation for singing the bluest of blue songs, ones that would make "King Size Papa" look meek.
Both songs can be found on this excessive but valuable
4-disc set.