1948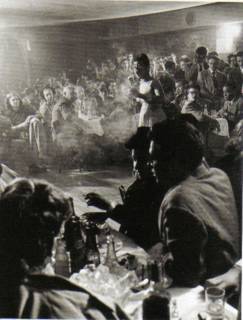 nighthawks

Muddy Waters, I Can't Be Satisfied.
John Lee Hooker, Boogie Chillen.
If anything purely incarnates the postwar city blues, the electric blues, it is Don Cheadle's Mouse in the film
Devil In a Blue Dress
(which captures what 1948 looked and sounded like, at least for black Angelenos). Mouse is the boyhood friend of Denzel Washington's Easy Rawlins, the murderer who Rawlins needs to get him out of a mess. Mouse is from Texas, a chawbacon dressed in a new store-bought suit but illiterate in the city's cultural language, not that he cares. Brutal, uncouth, a bit oblivious, Mouse is terrifying and new, seemingly without history, possessed with an electric charisma that makes it impossible to watch any other character sharing the frame with him. He's a black man with absolutely no fear of white authority--deferring to such authority has never
occurred
to him--and his theme could be Muddy Waters' "I Can't Be Satisified."
Well I feel like snappin'
Pistol in your face
I'm gonna let some graveyard
Lord, be your resting place
"I Can't Be Satisfied" is Waters' reworking of two songs from his earliest recordings on the Stovall Plantation, "I Be's Troubled" and "I Be Bound to Write to You". Waters was born McKinley Morganfield in Rolling Fork, Mississippi, in 1915, and grew up in the Delta, imbibing the classic country blues of Son House, Robert Johnson, Blind Lemon Jefferson. After a while playing harmonica, he switched to guitar and ultimately mastered it.
When he was 28, he moved to Chicago, intent on becoming a professional musician at last, and after a few fallow years, he began to craft a new sound for his adopted city. "I Can't Be Satisfied" was recorded in April 1948 and issued on the Aristocrat label, an independent happy to violate the recording ban, and which would soon change its name to Chess.
"
The blues is a chair, not a design for a chair, or a better chair…it is the first chair
," John Lennon, 1970.
A boy who's been up to no good hears his parents talking in their room late at night. They moved up to Detroit to make some money, to get their kids out of the South, but now his mother's worried about the boy, what he's been doing. He's been at that Henry's Swing Club on
Hastings Street
all the time lately, his clothes smell like reefer, a cop was at the house yesterday asking about him. But his father just resigns himself. "
Let that boy boogie woogie. 'Cos it's in him, and it's got to come out
."
John Lee Hooker also came from Mississippi, first heading up to Chicago like Waters, finding work at a Chrysler plant, and then moving to Detroit. In September '48 he signed with Modern Records, and in Detroit's United Sound Studios he laid down "Boogie Chillen," his first single and a song so potent it could be played in London discotheques 15 years later and dancers would think it was a new release. Hooker's guitar is nothing like the sinuous playing of Django Reinhardt, the sound of an evening ebbing at a cafe, nor does it have the brilliant precision of Charlie Christian--this is raw, nasty guitar, insistent, a bit crazy, devoted purely to rhythm, a switchblade of sound.
If you don't own any Waters or Hooker albums, you've been remiss. Start
here
with Muddy and
here
with John.
PS--Fans of beautiful French actress/singers of the 1960s, please check out
Bedazzled
, for clips of Serge Gainsbourg dueting with Anna Karina and sort-of dueting with France Gall. If only all music videos were like this.