1948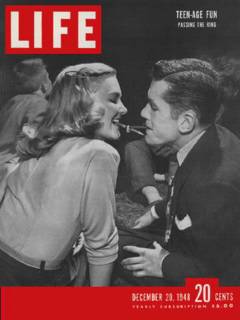 the music with that gone groove


Fats Navarro and Tadd Dameron, Lady Bird.
Benny Goodman Sextet (w/Fats Navarro), Stealin' Apples
.
One of the
postwar legends of the trumpet
, Theodore "Fats" Navarro's relative obscurity today is owed to his appallingly early death at 26 in 1950. (Heroin use fatally worsened his tuberculosis--the toll heroin took on lives and careers in the '40s and '50s made it a sort of Battle of the Somme for that generation of players.) Born in 1923, Navarro was playing in Snookum Russell's Midwestern-based big band by the start of WWII, and then filled Dizzy Gillespie's seat in Billy Eckstine's band.
By 1947, Navarro had become a trumpeter of the first rank, and here are two tracks from his brief peak. Pianist and composer Tadd Dameron in 1948 had a residency at the Royal Roost, a chicken restaurant on Broadway and 47th Street that had recently added live jazz to draw in tourists, and Damero put together a house band that included some of the finest young tenor saxophonists, Wardell Gray and
Allen Eager
, as well as Navarro.
Dameron's "Lady Bird", for which Navarro crafts a sinuous solo, was recorded for Blue Note in New York on September 13, 1948, with Navarro on trumpet, Gray and Eager on tenor sax, Dameron (p), Curly Russell (b) and Kenny Clarke (d).
Four days before, Navarro and Gray were part of an odd one-off session with Benny Goodman, from which only "Stealin' Apples" has surfaced. In the late '40s Goodman was tinkering with a type of bebop-esque chamber music, which he abandoned in the 1950s to return to traditional swing. "Apples"' three main solos are almost allegorical--Goodman's soaring clarinet as jazz's past, Gray's tenor as its confident present and Navarro's quiet, spacious trumpet as its lost future. The group also included Mundell Lowe (g), Gene DiNovi (p), Clyde Lombardi (b) and Mel Zelnick (d).
You can get both tracks, along with the other 1948-49 work from Dameron and Navarro on this good
2-CD compilation
. This disc is from Europe, where all these recordings are now in the public domain.