1951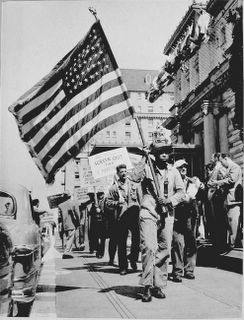 The Clovers, Don't You Know I Love You.
The Cardinals, Shouldn't I Know.
The Clovers
, along with Ruth Brown, helped establish Atlantic Records in the early 1950s. The Clovers began as the Four Clovers in Washington D.C.--they were John "Buddy" Bailey, the lead, tenor Matthew McQuater, baritone Harold Lucas and bass Harold Winley.
They were versatile, able to sing jump blues and mournful ballads, and Atlantic head Ahmet Ertegun chose to put the full force of his label behind them--custom-writing songs, hiring top New York session men (like saxophonist Frank Culley and the great jazz pianist
Randy Weston
), using recent engineering advances to get a deep, rich sound.
"Don't You Know I Love You", the Clovers' incredible first single, was recorded on February 22, 1951, and released a month later as Atlantic 934. It grew slowly in popularity throughout the summer, until by September it was a #1 R&B hit.
The Cardinals
were signed by Atlantic in February 1951--the label quickly changed the group's name from the Mellotones to the Cardinals, cashing in, or least attempting to, on the vogue of vocal groups being named after birds. The Cardinals were nowhere near as successful as the Clovers, releasing only twelve singles in six years, and their versatility was not of the same caliber-—the Cardinals primarily wanted to be a genteel vocal group in the style of the Ink Spots. The audience wanted something else.
"Shouldn't I Know" comes from their first session in March '51--it was a minor hit and deserved to be a greater one, carried by lead tenor Ernie Warren's clear, warm vocal, with fine backing by Meredith "Prince" Brothers, Jack "Sam" Ayolette, Donald "Jack" Johnson and Leon "Tree Top" Hardy. (I guess everyone was required to have a nickname.)
Both songs are found in this
massive Atlantic set
.
Films of '51
In Hollywood the rot begins setting in, while the Japanese, French and British (natives and expatriates) are left to carry on.
Bakushû (Early Summer)
. Many of the films of Yasujiro Ozu, the 20th Century's equivalent of Jane Austen, still remain unreleased in the U.S., or are only issued on poor VHS copies. (Thankfully this is not one of them--there is an excellent Criterion DVD.) This is one of his finest--a family pushes their single daughter to marry, knowing such a marriage will prove to be their own dissolution.
Journal d'un curé de campagne (Diary of a Country Priest)
. A young, ailing priest is assigned to a impoverished parish in rural France that reveals itself to be an earthly purgatory. Paul Schrader took it as the starting point for
Taxi Driver
.
The Lavender Hill Mob
/
The Man in the White Suit
. The genius of Alec Guinness, demonstrated in four hours. I prefer
Lavender Hill Mob
a bit more just for scenes like Guinness frantically chasing a group of bratty schoolgirls down the Eiffel Tower and Audrey Hepburn's brief walk-on as "Chiquita".
Strangers on a Train
.
The Big Carnival/Ace in the Hole
. The most cynical of professional cynic Billy Wilder's films--a film baked in misanthropy.
The Day the Earth Stood Still
.
The Thing
. "Watch the skies!!" Ghost-directed by Howard Hawks and ghost-written by Faulkner and Ben Hecht.
People Will Talk.
A period piece, but Cary Grant takes it higher.
Guardie e Ladri
.
The River
. Renoir escapes from Hollywood, winds up on the Ganges.
His Kind of Woman
. Wonderfully weird--Vincent Price as the sort-of hero, Bob Mitchum walking around like a thug, Jane Russell trying to act (and succeeding).
A Streetcar Named Desire
. The film seems dated now, stagey and at times overdone, but Brando's performance is still astonishing 55 years later. And a special mention for
Kim Hunter
, who gave as good as Brando, and due to blacklisting barely worked for the rest of the decade.
Summer hours
: Next week begins a thematic set that hopefully will prove entertaining, at least for the peccable among us. There probably will only be two posts a week for a while, as it's getting warmer and I'm getting lazier. For "Locust St" purists, if such a breed exists, look for the 1952 set to start sometime in mid-July.