1951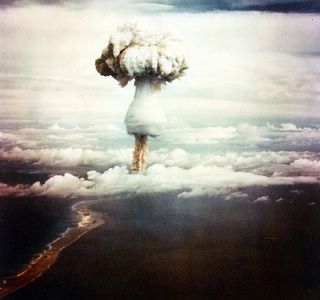 King George
H-Bomb Ferguson, Good Lovin'.
"
I used to be strong, but I feel like 62!!
"
Atomic-age rhythm & blues--the brutal beat could be used for exorcisms; the lead singer, his voice blown out, rolls around lost in delerium.

"H-Bomb" Ferguson
was one of the best and wildest of the last generation of blues shouters, taking his cue from Big Joe Turner and Wynonie Harris, but going further into pure lunacy. Born in 1931, Ferguson cut a series of proto rock & roll records in the early 1950s before dropping out of music for more than two decades. However, he began making a comeback in the 1980s,
wearing
Rick James-inspired headgear.
As he says in his stage introductions,
"I'm H-Bomb Ferguson, the mother's son, and after me there damn sure ain't gonna be none!!"
True enough.
The man
is still playing regularly in Ohio (he has some shows this weekend)--if you're around there, check him out.
"Good Lovin'" was released as Savoy 830, and can be found on
Rhythm Riot
.
In January 1951, plans for the hydrogen bomb (Apocalypse 2.0) are
set in motion
, with the
"George" test
of May 1951 as one of the critical steps. More
here.