1951
vir heroicus sublimis
Count Basie (w/Wardell Gray), Little Pony.
Stan Getz, Mosquito Knees.
Sonny Rollins, Time on My Hands.
Three tenor saxophonists: one at his brief zenith, another coming into his power, the last taking his first steps.
By 1950, the tenor saxophone had become the lead instrument in jazz: The days when a clarinetist led a band, like Artie Shaw's orchestra, seemed antediluvial. Coleman Hawkins had led the way, Lester Young had shown there was a lighter alternative, Charlie Parker had used it to illustrate his genius.
Now there were a host of new masters, like
Wardell Gray
, who dominates Count Basie's "Little Pony".
Gray,
revered by Jack Kerouac and Dean Moriarty, is a lost legend who crops up repeatedly on essential sessions throughout the late '40s and early '50s until his bizarre 1955 death, in which his body, beaten and broken, was found in the desert outside Las Vegas.
"On "Little Pony", Gray comes in with a bold, confident solo, and gets goaded to new heights each time the full band bursts in--in particular, the wild exchanges around the 1:30-1:55 mark are amazing--and ends with a brief unaccompanied statement.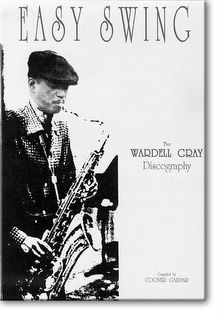 Stan Getz's musings are far from Gray's attack--his light, almost vibrato-less tone seems a slender cousin to Gray's full-bodied one, but in "Mosquito Knees" Getz demonstrates his agility and power, especially when he starts trading fours with drummer Tiny Kahn at the end.
And then there was the newcomer. "Time on My Hands" is considered by some to be Sonny Rollins' first masterpiece, the first time he managed to craft his mature sound. "Time" comes from a chaotic recording session, Rollins' first as a leader--it was a night session in Englewood, NJ, and the sleet was so horrific that conga drummer Sabu Martinez, who was supposed to be a key player in the session, couldn't get out of the Bronx. Worse, Rollins had forgotten a neckstrap, and so had to hang his sax around his neck using a wire hanger and a piece of rope. Somehow, however, Rollins managed to put in a flawless interpretation of Vincent Youmans' tune.
"Little Pony", written and arranged by Neal Hefti, was recorded for Columbia on April 10, 1951. Basie's band is Bobby Mitchell, Al Porcino, Clark Terry, Lamar Wright, Jr. (t), Leon Comegys, Matthew Gee, Booty Wood (tb), Reuben Phillips, Marshal Royal (as), Gray, Lucky Thompson (ts), Charles Fowlkes (bar sax), Freddie Green (g), Jimmy Lewis (b), Gus Johnson (d). On the 4-CD
America's #1 Band.
"Mosquito Knees", recorded at Storyville in Boston on October 28, 1951, features Getz, Jimmy Raney (g), Al Haig (p), Teddy Kotick (b) and Tiny Kahn. Complete Roost recordings
here
.
"Time On My Hands" was recorded on December 17, 1951, with Rollins, Kenny Drew (p), Percy Heath (b) and Art Blakey (d). On the inaccurately titled
Sonny Rollins with the Modern Jazz Quartet
(the latter only appear on four tracks out of 13).