1950
mix your own sugar
Ruth Brown, Teardrops From My Eyes.
Roy Milton, Information Blues.
Smiley Lewis, Dirty People.
A trio of R&B songs, as we start winding down the year.
Ruth Brown
, the woman who
built Atlantic Records
, and one of the godmothers of rock and roll, was born in Portsmouth, Virginia in 1928 and started out singing in USO clubs during the war. Her stint at the Crystal Caverns club in Washington DC attracted Duke Ellington and DJ Willis Conover, the latter of whom called Atlantic co-owner Ahmet Ertegun to rave about her. Ertegun signed
Brown
in 1949, and after a few middling successes with slower-paced songs like "So Long" and "I'll Get Along Somehow," Brown had her first smash with "Teardrops," which was recorded in September 1950.
It was a monster--holding the #1 slot for almost three months in 1950 and 1951, and it would be the start of a string of hits Brown made for Atlantic during the decade.
"Teardrops" stands on the cusp of rock and roll--Brown's vocal is already there, and Budd Johnson's tenor sax solo is nice and meaty, but there's still a bit of big band stodginess in the arrangement. Still, who's complaining, really?
Roy Milton
is, for one. "You can never tell what's on your woman's mind," he notes, while the Solid Senders swing behind him in sympathy. He doesn't know for sure, but his left eye's been twitching and is flesh is crawling--there's another man somewhere; he can almost smell him.
"Information Blues," released as Specialty 349, is state-of-the-art R&B as of mid- century. The basic lineup of the Solid Senders was Milton on drums and vocal, Benny Walters (tenor sax), Jackie Kelso (alto sax), Arthur Walker (trumpet), Johnny Rogers (g), Camille Howard (piano and vocals) and Dallas Bartley (b).
Compared to these two fairly polished performances, Smiley Lewis' fantastic "Dirty People" sounds like it was recorded on the bottom of a swamp.
Lewis
was born Overton Amos Lemons in 1913 in De Quincy, Louisiana. By the 1930s he had changed his name and was playing guitar in trumpeter Thomas Jefferson's band; a decade later, he played in blues trios around New Orleans. When Dave Bartholomew was charged with finding more New Orleans talent for Imperial Records to record, he remembered Lewis--the two had grown up in the same neighborhood, and Bartholomew recalled Lewis playing guitar on his porch. (Much of this information is second hand, as Lewis was never interviewed in his life--he died of stomach cancer in 1966).
"Dirty People" features the usual cast of New Orleans characters--Dave Bartholomew on trumpet, Joe Harris (alto sax), Ernest McClean (g), Tuts Washington (p), Frank Fields (b), Herman Seale (d). Recorded in April 1950 and released as Imperial 5102.
It wasn't much of a hit, but Lewis would go on to greater prominence, at least in terms of influence-- "Blue Monday", "I Hear You Knockin'" and "One Night" were all originally his.
You can find "Teardrops" on this
Brown collection
, "Dirty People" on this
New Orleans compilation
I've touted about a dozen times before, and "Information" on this
Milton compilation
.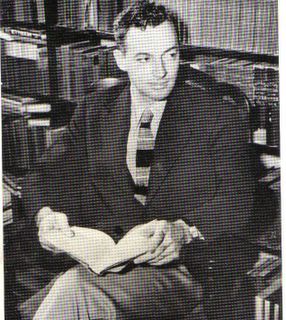 Saul Bellow, 1915-2005
.
I took a class with Bellow in the spring of 1994, and have a number of fine memories from it--he introduced me to the writings of Denis Johnson and Danilo Kis, for one thing. The class was ostensibly about "the modern novel" but the best days were when Bellow would just start talking about the past, going off on tears about the year he and Ralph Ellison lived together, near Bard College, or the time Dorothy Parker was viciously rude to him.
He was a greatly civilized man, in his demeanor and speech, but funny too--caustically funny, if he wanted to be.
If you haven't read any Bellow, my recommendations: Augie March, Seize the Day, Herzog, Henderson the Rain King, Mr. Sammler's Planet. And the story "The Gonzaga Manuscripts," which captured American/European mis-relations perfectly in 1954, and sadly still does.