NYC: Attitude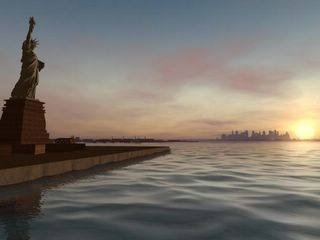 Ace Frehley, New York Groove.
Leadbelly, New York City.
Betty Comden & Adolph Green, New York New York/Lonely Town.
John Lennon, New York City (demo).
Bobby Short, Manhattan.
Buenas noches
Don't mind the roaches
--"Lullaby for New York," Joseph Brodsky.
So, I'm moving.
I've lived in New York City for a dozen years and now I'm saying goodbye to it, heading far up country, to a place where it's going to be so quiet at night I won't able to bloody sleep for months.
For the next two weeks, I'll be offering a bunch of songs that sum up New York for me--the look and feel of the city, its many joys and miseries.
My first proper job in NYC entailed a lot of flying around the country to attend mind-numbing business conferences.
One night in Houston, I was in the airport preparing to board a plane home, after a really awful day. The man checking my ticket barely glanced at it and asked me what my final destination was.
"New York," I said. "I live there."
He looked at me somberly, with a sort of pitying expression that one would give a child who said he had lost a parent, and said, "I am
very sorry
to hear that."
Just one example of many similar instances. When I say I am from NYC, there's always a chance someone will slag off the place. Is there something inherently wrong with the city? Too noisy? Too full of itself? Too many freaks?
Maybe so. But as I wished I had said to the ticket collector at the time, "But sir, don't you live in Houston?"
So as a corrective for the haters, here are five songs that convey the excitement of coming to New York, whether for the first time or the hundredth.
The sailors in Comden and Green's "New York New York" are ready to tear through the city until their lungs burst. Leadbelly is so excited about New York that he's going back to Georgia and Louisiana and tell everybody about it. John and Yoko love the place even though they're getting harassed on the street. Even Ace Frehley, pulling into town with his groupies, is so impressed that he gets out of his limousine at 3rd and 43rd and staggers off into the night.
And then there's Bobby Short, the king of the Carlyle Hotel, who embodies old Manhattan sophistication. Short seems to have been born here, but he actually came from Danville, Illinois--an immigrant like the rest of us.
"New York Groove" is on Frehley's first solo album, from 1978. At the height of their success, the members of Kiss made the commercially suicidal decision to each release a solo record on the same day. Frehley's is by far the best of the lot. Buy
here
.
Leadbelly's "New York City", recorded in 1940, can be found on the collection
Take This Hammer
.
Comden and Green's rendition of their compositions "New York New York" and "Lonely Town" (both from the 1944 musical
On the Town
) is on the 1955 LP
Comden and Green Perform Their Own Songs
, available on CD
here
.
John Lennon's "New York City" demo, recorded in 1971, is on the 4-CD
Lennon Anthology
; the studio version is on
Sometime in New York City
, a fascinating mess of an album.
Bobby Short
just died this March. His ebullient version of Rodgers and Hart's "Manhattan" is found on this great (and sadly out of print)
collection.
A live version can be found
here.