NYC: Circulation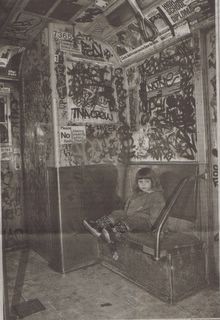 the people ride in a hole in the ground
Duke Ellington, Take the "A" Train.
Le Tigre, My My Metrocard.
The Last Poets, On the Subway.
New York Dolls, Subway Train.
Tom Waits, Downtown Train.

"
We were very tired, we were very merry---
We had gone back and forth all night on the ferry.
We hailed, "Good morrow, mother!" to a shawl-covered head,
And bought a morning paper, which neither of us read;
And she wept, "God bless you!" for the apples and pears,
And we gave her all our money but our subway fares
."
Edna St. Vincent Millay, "Recuerdo."
Three subway moments:
9 train at South Ferry, evening. A mother and her toddler-age son walk through the doors and, without missing a beat, the mother says, "corner pocket." The kid runs to the small bench across from the conductor's booth and sits down.
N train, near Times Square. It's a quiet midday train, and the conductor starts giving advice over the intercom. "Gentlemen...you know, you don't need a suit and tie...to be a gentleman. If you see a lady standing, why don't you give her your seat? And if you're single, and she is too, well...I can't think of a better way to start a conversation."
4 or 5 train, Brooklyn Bridge. Late at night. A mild-looking middle-aged woman walks into the empty car ahead of me. There's a burning stench in the air. She takes a sharp sniff and turns to me. "It's crack!!" she says.
Five songs about the
IRT/IND/BMT
:
"Take the A Train," written by Billy Strayhorn (the title came from the directions Ellington gave the young, Pittsburgh-born Strayhorn as to how to get up to Harlem) is Duke Ellington's signature song. Recorded in 1941 by Ellington's all-time greatest group, the "Blanton-Webster" band (Jimmy Blanton played bass, Ben Webster played tenor sax). Available on all sorts of Ellington compilations--none finer than
this
.
"My My Metrocard" is off Le Tigre's
first album
, released in 1999. Le Tigre (as of this album) is Kathleen Hanna, Sadie Benning and Johanna Fateman. Visit
their website
,
buy their stuff
. For non-New Yorkers: the Metrocard is the plastic yellow card that gets you past the turnstiles--it quickly and quietly killed off the storied
subway token
in the late 1990s.
The subway has always been the tense racial intersection of New York. "On the Subway" is off the incendiary, amazing
first album
by the
Last Poets
, released in 1970. The Poets were David Nelson, Gylan Kain, and Abiodun Oyewole.
Having a set of New York songs without including the Dolls is inconceivable. "Subway Train" is off their first album, produced by Todd Rundgren, released in 1973. I saw
David Johansen
once, sitting outside a restaurant on Columbus Ave. at midday, looking stunned to be awake so early. Get it
here
.
And Waits' "Downtown Train" is an obvious but neccessary choice. If for some reason you haven't heard this song before, or are only familiar with the Rod Stewart version, sit down and listen to it a few times. Then get
Rain Dogs
. Please.