NYC: West Side/Uptown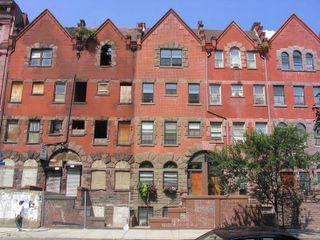 that a mugger and a child should share the same paradise
Bruce Springsteen, Tenth Avenue Freeze-Out.
Nellie McKay, Manhattan Avenue.
Bobby Womack, Across 110th St.
John Coltrane, Central Park West.
The Clash, Broadway.
Charlie Parker Quintet, 52nd Street Theme.
"
I could take the Harlem night
and wrap around you,
Take the neon lights and make a crown,
Take the Lenox Avenue busses,
Taxis, subways,
And for your love song tone their rumble down.
Take Harlem's heartbeat,
Make a drumbeat,
Put it on a record, let it whirl,
And while we listen to it play,
Dance with you till day--
Dance with you, my sweet brown Harlem girl."

Langston Hughes, "Juke Box Love Song"
When I was ten years old, "Tenth Avenue Freeze-Out" was my favorite song off Bruce Springsteen's
Born to Run
, and it still is. It's always sounded to me like Bruce is singing "talkin' bout the Talmud" towards the fade-out.
Manhattan Ave. in its youth
Nellie McKay's "Manhattan Avenue" was recorded at the Aldrich Museum in August 2004. The
complete set
is on McKay's website, and the original studio version is on
Get Away from Me
, my favorite record from last year. If you gave me a periscope to spy ten years into the future, I would try to scour a record store to see what Nellie had put out.
"Across 110th St." is the theme song to the searing 1972
film
of the same name, starring Anthony Quinn and Yaphet Kotto, and later was used to great effect in Quentin Tarantino's
Jackie Brown
. It was the finest thing Womack, an R&B journeyman, ever did. Get the soundtrack
here
.
The Dakota, 72nd and Central Park West, home to the Lennon/Onos and Satan
.
Coltrane's "Central Park West" was recorded in 1960 and issued four years later on
Coltrane's Sound
, one of the loveliest, most underrated of Coltrane's Atlantic LPs. "Central Park West" was the first time Coltrane played the soprano saxophone on record--here he keeps to the horn's lower register for much of the performance.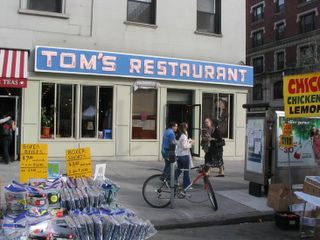 Tom's Restaurant, 112th and Broadway, aka "The Seinfeld restaurant," and where Suzanne Vega read in the newspaper that William Holden had died--he was no one she had heard of.
"Broadway" is on the Clash's 3-LP epic
Sandinista!
, released in late 1980. It's a bloated, sprawling, indulgent mess of a record, but one in which I find buried riches every time I listen to it. Once we were driving late at night down an emptied avenue, most likely Second, and the lights went in our favor, and there seemed to be no other cars at all, not even taxis, and so we went something like forty blocks, at breakneck speed, without ever touching the brake, and it felt as though we could have sailed all the way down to Battery Park. "Broadway" came on, and it was perfect: "
Forward!...Drive!...Green lights! Green lights!"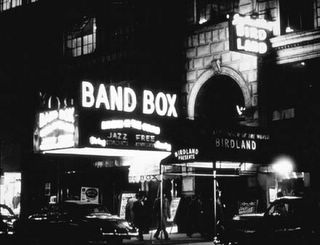 Parker's "52nd Street Theme" (written by Thelonious Monk) was recorded at the Royal Roost on September 4, 1948, with an intro by Symphony Sid that unfortunately cuts into Bird's opening solo. It's on the
Genius of Charlie Parker
.
(Due to server issues, these last two are available via "yousendit"--not ideal, but the alternative was to compress them to the point of being unlistenable.)