NYC: Solitude, Despair, Anomie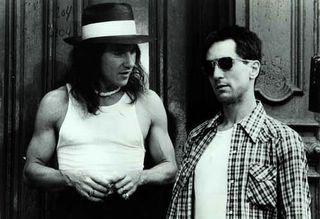 I can't give it away on Seventh Avenue
Bill Hicks, New York Apartment.
Bob Dylan, Hard Times in New York Town.
George Gaynes, et al, What a Waste.
The Trade Winds, New York's a Lonely Town.
Grandmaster Flash & the Furious Five, New York, New York.
Pamela Myers, Another Hundred People.
The Rolling Stones, Shattered.
"
Now I do know that I am mad

For here are a million people surly with traffic
..."
Ezra Pound, "N.Y."
It can beat you down, living here. It's expensive, it's soul-wearying. And good God, it gets crowded. There are times (most recently for me, when I made the mistake of wandering into the pedestrian- and car-choked hell that is Herald Square on a warm Sunday afternoon) when the sheer mass of people crammed into this city makes you want to dive off a pier and swim across the Hudson.
And "edginess," catnip for adolescents, eventually gets old. I'll miss a lot of things about this town, but someone standing on my corner yelling "I've got a knife!" is not one of them.
New York can be a wonderful place to be alone, but it can also be merciless and crushing when you are blue. That said, the city will always give you perspective if you wait long enough; it will provide vistas into far deeper trenches of misery. One day I was walking down Broadway feeling quite low, until I saw a man kneeling on the sidewalk, crying and slamming his fists on the pavement.
Best street shakedown: summer 1996. I was walking in Murray Hill when a nicely dressed guy with impeccably styled dreads came up to me and gave me this story. He had been working on the new Lou Reed video when he was told he had to go up to Stamford to get some equipment. And as it turned out, he'd left his wallet at his girlfriend's place in Brooklyn, and all he needed was a few bucks to get a Metro North ticket, so could you help me out man, you look like a cool guy, etc. etc. It's the classic hustle story that makes absolutely no sense if you think about it, so the con has to keep talking fast enough so that you don't have time to. I was so impressed by the details of the con (a Lou Reed video? Stamford?) that I wound up giving him $5.
Here are seven slices of New York desperation:
Everyone who's ever lived in New York (except for those lucky few who nab those legendary rent-controlled two-bedrooms) can empathize with Bill Hicks' apartment woes. Hicks, one of the finest, most caustic comedians in recent memory, died ridiculously young at 32 in 1994. From
Love, Laughter and Truth
, a collection of previously-unreleased Hicks material.
Bob Dylan recorded "Hard Times" in a friend's apartment in December 1961, on a return trip to Minneapolis after spending close to a year in New York. The melody and much of the lyric is taken from the folk standard "
Down on Penny's Farm
." Times really weren't that hard for Bob--by this point, he had already recorded his first record and had played Carnegie Chapter Hall. After being bootlegged for decades, "Hard Times" was officially released on
The Bootleg Series: Vol 1-3
.
"What a Waste," which ought to be required listening for all kids planning to come to New York to make it big, is from the 1953 musical
Wonderful Town
, written by Betty Comden, Alfred Green (lyrics) and Leonard Bernstein (music). Sung by George Gaynes, Warren Gajour and Albert Linville. Original cast recording
here
. The Cape Cod singer's story is the saddest, for me.
The Trade Winds actually were New Yorkers, but they weren't surfers. The duo was Peter Andreoli and Vincent Poncia, a pair of Brill Building songwriters officially known as "Anders and Poncia" (check the
Mystical Beast
's archives for much more information on the later work of A&P). "New York's a Lonely Town," a great Beach Boys pastiche released in 1964, was their biggest hit. You can find it on the sublime collection
Surfin' Hits
. (Poncia would later write a number of '70s pop hits, like Leo Sayer's "You Make Me Feel Like Dancin'".)
Grandmaster Flash & the Furious Five's "New York, New York", a harsh sequel to the already grim "The Message", was released on Sugar Hill Records in 1983. DJ Grandmaster Flash, Melle Mel, Scorpio, Cowboy, Kid Creole and Raheim were the first great rap group, whose influence seems almost immeasurable today. Soon after "New York" was released, the group fell apart due to legal battles. You can find "New York" on
Adventures on the Wheels of Steel
, an incredibly essential 3-CD compilation. (I had to compress the hell out of this song to make it fit on the server, so the sound is pretty poor, unfortunately.)
"Another Hundred People" is from Stephen Sondheim's
Company
, a 1970 musical that, despite some datedness (call answering services, "swinging" stewardesses), is still a fairly accurate and biting look at loneliness and marriage in upper-class NYC. Original cast recording
here
.
"Shattered" is on 1978's
Some Girls
, the last great Rolling Stones album.